The Mental Health Authority is calling for concerted efforts to reduce suicide related deaths in the country as Ghana joins the rest of the world to mark Suicide Prevention Day today.
According to the Authority it is using this year's event which has the theme 'Take a Minute, Change a Life' to intensify awareness creation on the prevention of suicide in Ghana.
The Authority has recorded sixteen suicide related deaths between January and April this year with a number of the cases recorded in the Ashanti Region.
Mental health officials have noted that 95% of all suicide cases are due to mental illness most of which are caused by cultural and socio-economic factors.
Chief Executive Officer (CEO) of the Mental Health Authority, Dr Akwesi Osei who was addressing a gathering at the St. Georges Church in Kumasi as part of activities commemorating the day said people who attempt suicide in the society must not be seen as criminals or being morally weak.
He said 80% of suicide cases recorded in the country are due to depression which is a preventable and treatable condition.
Dr Osei also urged religious bodies to avoid tagging persons who attempt suicide as 'sinners', but should rather use their platforms to sensitize their members on the negative implications of suicide.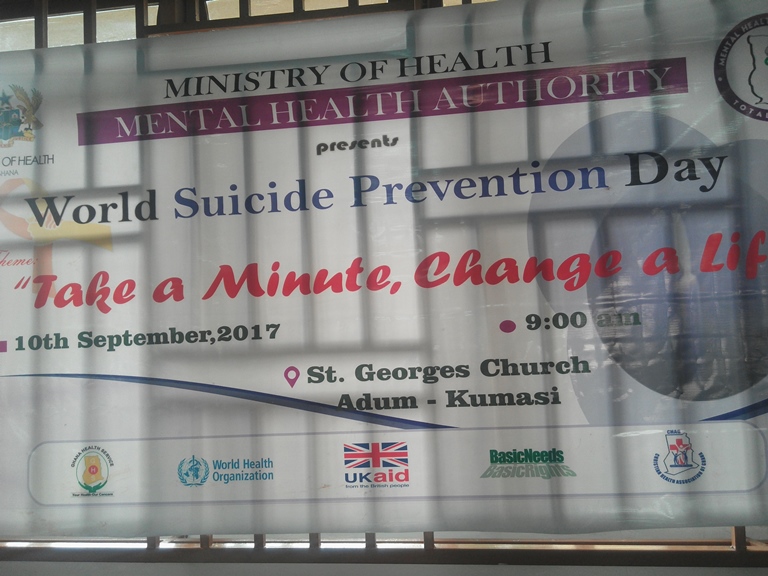 h
"The religious bodies sometimes also put some false notion in people's minds and label persons who attempt suicide as sinners or are seen to be afflicted by the evil spirits. That also worsens the stigma and it does not help people to come out for solutions. So by talking to them, by letting them recognize that this is not a sin, it is not moral weakness, it is not a spiritual affliction, the mindset will change. So religious bodies have a big role to play".
He indicated that Government must put in place the right policies to better the living conditions of the citizenry since most of the suicide cases recorded are due to socio-economic factors.
He added that the decriminalization of attempted suicide from the laws of the country can help prevent such cases.
Dr Osei has therefore called on the general public to desist from stigmatizing persons who attempt suicide.
Between 800 and 1 million people die every year from suicide.
For every one person who commits suicide, about two or three others would have committed a similar act without being reported in the media.
Also, for every one person who completes suicide, about ten others would have attempted without completing it, for every one who attempts suicide, about ten others would have planned without attempting it and for every one person who plans suicide, about ten would have thought of it.